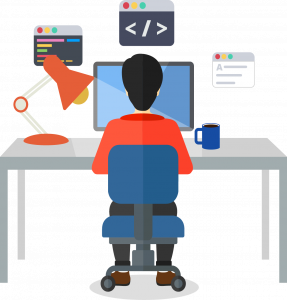 We are looking for an experienced specialist having theoretical and practical experience in Ruby/Ruby on Rails, ООP, relational DBMS.
The following skills are required:
– Ruby on Rails 4+ (also experience with versions 3.x);
– MySQL;
– JavaScript/CoffeeScript;
– jQuery;
– HTML/CSS;
– AngularJS;
– Git;
– English language. Intermediate level.
WOULD BE A PLUS
– experience with unrelational and NO-SQL DBMS;
– knowledge of  Rspec;
– experience with  Redis, DelayedJob;
– understanding of  continuous integration;
– managerial skills for team working.
RESPONSIBILITIES
You will be dealing with the following tasks: complicated programming parts realisation, system architecture designing and developing, identification of the system parts requiring improvement and introduction of proposals for improvements respectively, project interaction in developers team; communication with customer.
WE OFFER
– Formal employment and attractive compensation package;
– High salary depending on the candidate professional level;
– Interesting projects and challenging tasks;
– Assistance in technical and organisational developing
– Conference attendance and trips (at will);
– Friendly staff, creative corporate events, focused interest groups;
– Free English language courses;
– Office  convenient location
For more information, please visit the following links:
https://www.facebook.com/interlinkua
Please send you CV to: hr@interlink-ua.com
Location: Cherkasy